Insta-Pro's Customer Portal: Knowledge at Your Fingertips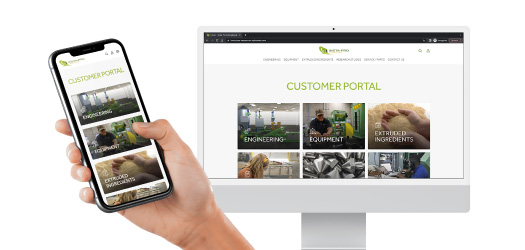 We understand the importance of streamlining your experience with us, and this new platform is designed to make your interactions with our products and services more efficient and seamless than ever before.
The Insta-Pro Customer Portal has been crafted with customers in mind, as it offers an array of features that will simplify the ways you manage equipment, learn to optimize, use, and market extruded products, and get the service and support you need in one convenient place. Whether you are the equipment owner, plant manager, equipment operator, or nutritionist, the Customer Portal is here to assist you in your daily operations.
Resources Library:
Much of the portal is dedicated to giving customers access to an extensive library of resources, including manuals, maintenance guides, and a host of educational materials.
Service – Need a refresher on disassembling an extruder barrel? Find this and other helpful video guides and step-by-step instructions for common service and maintenance needs. Reaching out to a member of our service team is only a click away too!
Nutrition – Dive into over 50 years of nutritional studies and animal feeding trials to learn how your extruded ingredients can greatly benefit your own animals or those of your customers.
Engineering – Find equipment manuals at the touch of a button and review equipment specs as you look to expand or add equipment to your operation. Easily review frequently asked questions about installing and operating pieces of equipment.
Whether you need help with setup, troubleshooting, or simply want to expand your knowledge with one of our nutrition trials, our portal sections are invaluable to your team.
User-Friendly Interface:
The portal has been designed with a user-friendly interface, making it intuitive for both new and experienced users. We want to make this a place to locate materials quickly and easily so you can make decisions on the spot anywhere in your facility.  Please let us know if there is something you'd like to see that you can't find.
How to Get Started:
Getting started with the Insta-Pro Customer Portal is straightforward. If you are a current equipment customer, enter your email and request a password on the portal login screen. Once you receive a message to set a new password, enter your desired password and use this to login on the portal home screen, with any future customers getting access with their equipment order. Once you're in, you'll have all these features and resources at your disposal, accessible from your computer or mobile device.
We believe that this new customer portal will greatly enhance your team's ability to train, operate, make decisions, and troubleshoot your equipment. It's all about putting the power of information, support, and efficient equipment management right in your hands. We are dedicated to providing you with the best tools to ensure the success of your operations.
We look forward to serving you better with our Customer Portal and continuing to be your trusted partner in the world of extrusion and processing solutions.